When you launch a new eCommerce website, the first thing website owners cannot wait for, is to drive traffic to their eCommerce website. The only thing is, you cannot depend on traffic to find your website, until people know that you are there. Traffic is the lifeblood of a website. If you don't have the traffic, you may as well turn off your website. Once you start getting traffic though, you need a definitive outcome. With an eCommerce website, you need to get an order from each visitor. If not an order, an enquiry or a positive action that will result in a sale. Well, that is the ultimate goal. Drive traffic to the eCommerce site, as much as you can, by taking advantage of some free traffic sources. This can include Social Media, Forums/Online Communities and even popular Facebook Groups that your target market frequently visits.
In this article, we will cover how you can get quality traffic, and make money from it through your eCommerce site. We will cover topics like site structure, methods to get traffic, and some best practices for driving quality traffic to your eCommerce website.
---
Before we start talking about eCommerce traffic generation in more detail, we have to understand the current scenario of the eCommerce industry. Well, you have probably already heard that a lot of businesses and industries have been affected due to the Coronavirus.
But, What Are The Coronavirus Impacts? And What Are They Having On eCommerce Markets?
eCommerce is playing a vital role in the retail sector, during this pandemic. In order to avoid the high risk of infection while going to retail stores, consumers are moving to online shops.  Australia's eCommerce industry has grown rapidly as a result of COVID-19 in 2020.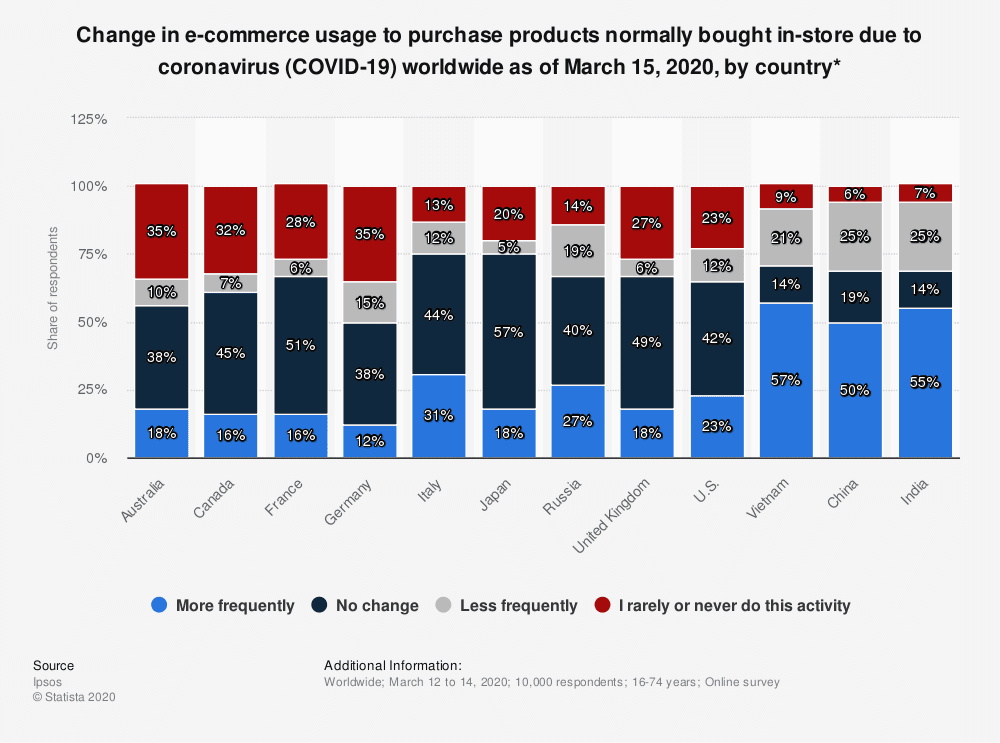 Statistics Source Statista
Why Is Site Structure So Important For eCommerce Traffic Generation?
Every seasoned website designers opinion is, Building a website that is easy to navigate is important. Rightfully so, the more times that people have to click, the more impatient they become. If you have multiple categories and subcategories, people will lose interest quickly. You need to make sure that each product you sell, is able to be located quickly, this in turn, should help to increase the eCommerce traffic. The most it should take is about 2-3 clicks from the front page to any product. In fact, it should be only a few clicks from any page.
Creating as simple a menu as possible is crucial. Keep the process simple, especially if you want to drive traffic to your eCommerce site. If you have 1 category and multiple subcategories, place the top-level category in the top level of your menu. Then have a drop-down with a list of sub-categories. For eCommerce traffic generation, you need to make sure though that the category and subcategory are well worded and structured. If you make it confusing, people will leave right away. You also need to make sure that the checkout process is simplified. It will ensure happy customers, and it will help when you generate good quality eCommerce traffic. If it is a lengthy process and requires a lot of mandatory fields, people will leave.
Key Things You Need To Include When You Structure Your eCommerce Website
When building your eCommerce website, you need to set a structure. The structure should follow some simple guidelines. This includes the following:
Clearly, Outline What Products Are For Sale.
Make Sure You Have A Clear Call To Action.
Keep Information To The Point And Highlight The Features Of Your Products.
Identify And Build Your Website Based On The Oldest People Who Are Likely To Purchase Your Product.
Give Plenty Of Options Around Payment And Shipping.
Clearly, State What Comes With The Product – Warranties And Support, Etc Where Required.
Show Navigation Paths Using Breadcrumb Navigation.
---
An eCommerce site is not just about building a website to sell products, it also functions as a virtual retail shop. Designing a pleasant online shopping experience will help your site visitors become customers. Have a look at some of the best practices you can apply to your eCommerce website.
Putting all of the above items into prospective, the graphic design component, is going to be important to help achieve the things listed. When designing an eCommerce website, keep mobile and tablet design as a primary focus. Having mobile and tablet as a primary design focus, should encourage page speed optimization, and be a driver for better site performance.
---
How Exactly Do You Increase eCommerce Website Traffic?
Working out your website marketing strategy is going to help determine how you can increase your eCommerce traffic. Things you really need to consider when it comes to marketing your site, includes the following:
Are You Going To Do Paid Search (Adwords, Bing Ads, Etc)?
Is Organic Search Engine Optimization (Aka SEO), On This List?
Has Social Media, As A Traffic Source Been Considered?
Referral/Affiliate Marketing Options And Commissions?
Have You Thought About Our Good Old Friend, Email Marketing?
There are pros and cons to each of these marketing methods. Carrying out one of these, will not deliver 100% of your goals. Understanding how each component works to help your eCommerce website, get more traffic is important. Paid Search, according to a recent study completed by SEMrush indicated that only 6% of overall traffic will come from the likes of AdWords. Referral and Affiliate traffic will cater to about 9%. Social Media (done poorly by a lot of companies presently) will get a miserable 3%. Search engine traffic though is still at about 40%. The rest is through direct marketing techniques, which would include offline promotions, brand reputation, etc.
One thing we haven't mentioned in any of this so far is content marketing. Typically, SEO experts will refer to content marketing as writing content for blogs, media outlets, and onsite content. This is true for the most part, however, you need to remember that content marketing works both online and offline as well. Balancing between each of these things can be a hard one for many people. At the end of the day, the likes of SEO, Paid Search, Social Media, and Email Marketing are all going to take time. It is a marathon and not a sprint. Research is just as important at this stage as the deployment is.
📢 Influencer Marketing – The New Kid On The Block!
A relative newcomer to the world of online marketing, aimed to boost eCommerce sales, is Influencer Marketing. When it was first pushed online there was a stigma attached to it. Old school advertising industry leaders referred to it as "snotty-nosed kids who want free sh$%!". Others saw the opportunity, embraced it, and did quite well. The influencers were determined by their social profiles and reach online. Their goal is to endorse a product to the masses to drive traffic to your eCommerce website. The cost at the time for the company chasing the influencer was usually fairly low in comparison to other online activities.
Today, some 4 or 5 years on, there is some great money for "influencers". Before we go on though, yes that is how behind Australian Businesses are with Internet Marketing. Organic Search (or SEO as you may know it as) is starting to take off in volumes now, but it has taken some 15 years to get this level of traction. Influencer Marketing has been going for longer than 4 or 5 years now, and only recently, has influencer marketing become a "thing" online.
Back to the influencers though, you will be shocked at who some of them are. What they are reportedly earning, and these ones are just the ones that mainstream media are reporting about. There are others out there doing 10-fold on some of these known, and more popular ones. So to start off with, Kylie Jenner, she is reportedly making more than $1 million per sponsored Instagram post. She can do this because she has built up over 164 MILLION followers, on Instagram alone. Ariana Grande, also dipped her toes into this great pond of cash, and currently gets just under $1 million per sponsored post.
Given that they are leaders, in the influencer marketing world, it does mean they can charge what they like. This shouldn't discourage you from trying it for yourself on your eCommerce website.
Why Is Social Media A Big Helper For Ecommerce Websites?
Social Media is a bugbear for a lot of business owners who want to drive traffic to their eCommerce websites. Mainly because everyone sees random names like Vero, Steemit, Snapchat, Facebook, etc. Where would you possibly start? Well, it depends on your target market. If it is consumers you need to go where they are, just like traditional businesses. You set up a shop in a new or popular shopping center, you will typically get traffic providing you are selling what people want. While of course, it is harder than that, we want to keep these things short.
The flip side to social media, particularly for the website owners, those who want to increase traffic to their eCommerce website, is that you can entice those snap decision buyers' segment. You can also find other consumer markets you may not have ever thought about earlier. The cost can also be a lot better from an advertising standpoint than the likes of AdWords. Here are a few things that you should consider for a few of the leading social media platforms.
👍 Facebook – Show You Are Active!
Facebook is always telling you, how good your posts are performing for your eCommerce websites, to get traffic. In reality though, as sad as this sounds… The post probably sucks for those who are not genuinely interested and because there is no money changing hands Facebook doesn't push it out like they once did. Facebook will pump you with the belief it is doing great and if you "Boost your post" it will get out to 10,000 or more people…
On the positive side… GO LIVE!!!!! Facebook will potentially reward you to no end. You not only are creating unique content by doing this, but you are also creating unfiltered and raw content for driving quality traffic to your eCommerce website. If you can keep people engaged and know your product well enough, you could keep the live feed going for 10-15 minutes without too much effort. The great thing from this is Facebook will push the fact you are live, and for longer than 10 minutes will mean that they will generally amplify your post's exposure. Users can message you during the live stream and you can even send backlinks and comments so they can buy your product while you are talking it up. The best part is the only cost you have with Facebook Live is the time it takes you to make the video and internet cost.
Linking Facebook Messenger to your website is also a great option for eCommerce traffic generation. It gives you a free live chat facility. Facebook will soon release a cool piece of tech where you can take payments from users via messenger!
📷

Instagram – Its Shoppable

What is this you ask? Imagine being able to tag parts of an image that actually has a product your site sells and this will naturally drive traffic to your eCommerce website. When a user taps on that hot spot product info will show up. They can then go through a checkout process when they are ready.

If you get more than 10,000 likers to your Insta account you have the option to add direct links into stories. Within a single swipe, they can land on a page within your eCommerce website which will increase traffic.
Consider A Mobile App For Your eCommerce Store
While marketing and promoting a business, it can seem like there is a bottomless pit of options. An app should be high on your list. In the past, we probably would have been told we are clueless for bringing up such a suggestion. Fact is, almost 90% of customers of leading brands (eBay, phone companies, travel apps) will purchase through apps rather than desktop. There are always theories behind why. Put simply it boils down to accessibility to the products and services on your eCommerce website.
The apps can take payments securely, they can provide access to important account information. There is the option to push messages directly to devices of their users and many more marketing techniques that can be deployed. There are other benefits like users not having to remember URLs (website addresses) for products or services. They can chat from the app (if the feature is there). It also gives eCommerce business owners greater access to customers and generates quality traffic to your eCommerce website.
The decision to purchase is also another key factor. Some major retailers here in Australia that have an eCommerce site and an app attached found something interesting. This may sound obvious, but it is cool. If a person takes the effort to download their app, they are 61% more likely to have high customer retention for driving quality traffic to your eCommerce website. They are also more likely to buy from you without second-guessing the price or hesitating.
How Much Does It Cost To Boost An eCommerce Websites Traffic?
The costs behind any of the methods we have mentioned will vary. Costs can be either really low or really high. While this sounds vague there are a few things that determine the cost. For paid ads, you are always going to have the vendor costs. They will vary but you can at least set a budget. The creation of the campaign content (designs, text, etc) will always vary depending on who is doing it for you. The other determining cost with the creation of the campaign is how big the campaign is going to be. The more work, the higher the cost to boost eCommerce sales.
In an ideal world, you should start with a budget of about $50-$100 per day for your eCommerce traffic generation. Anything lower will take longer to get traction as a rule of thumb and probably won't return the results you need to make it worth your while. The suggested budget is a general guide, it is, however, going to be restricted by your budget and profitability of sales.
Final Takes On Generating Traffic For Your Ecommerce Website
Without a doubt traffic to any website is crucial to its success. Is there more than one way to skin this cat? You bet there is. Not each solution in the marketplace will generate a great return for everyone. It is going to be market-specific and is going to vary on industry norms. Trial and error are going to be a big part of the success of driving quality traffic to your eCommerce website.
Working out what is going to be a great way to go can be challenging. Our team consists of experts who can help you work out a plan of attack to increase more traffic for your eCommerce website. Whatever the solution may be, rest assured that it is going to take 2-3 years to see long-lasting results. It will take that sort of time to get brand awareness and to boost eCommerce sales. Getting recognized by consumers is not always quick or easy. Once you reach that sweet spot you will see things change rapidly.
Take advantage of our 30-minute FREE consultation, see if we are a good fit for you to drive traffic to your eCommerce website. Our proven strategies and marketing techniques have helped build many eCommerce businesses over the years. It takes a mutual amount of commitment from both parties but it can be exciting to see the growth that comes with it.
---
Neil McNulty is the founder and owner of Suncoast Web Solutions. He has over 20 years of experience working with business owners and organizations of various sizes. The areas of Neils experience and expertise include Digital Marketing, Website Development, Website Design, and Website Hosting.
---
WE ARE YOUR ONE-STOP INTERNET MARKETING SOLUTION ON THE SUNSHINE COAST!
GET IN TOUCH WITH US!